Serenity 40 4.5kW Inset
Description
Serenity
40 4.5kW Inset convector stove is a stylish contemporary wood burning and multi fuel stove designed to fit into a standard 16" x 22" height fireplace opening. With its modern black bordered glass door this stove will look wonderful in a fireplace where sharp and minimalist cutting edge design is required.
Clean burn firebox technology has been built into the stove to ensure high efficiencies and low particulates.  The Serenity 40 has now been recommended to Defra (July 2011) for smoke exemption approval.
Enjoy the dancing flames and wonderful convection heat that this small stove delivers. Simple primary and secondary air controls and automatic tertiary air ensures that the stove is easy to use and control with a built in air wash to keep the glass spotlessly clean.
British designed and built to high standards of manufacture and quality and incorporating many new unique innovative design features to make the stove both easier to install and use.
MAIN FEATURES
UK made UK
4.5kW nominal output
Efficiencies 72%-82% and CO 0.16%
Weight 65KG
Unique cassette installation with stove "jacked" up into position
Offset 5" dia flue collar
4mm heavy duty steel construction
Skamolex lined firebox
Insulated convector box with supplied calcium silicate top
Twin baffle system
Cast iron grate
Slimline handle with positive locking mechanism
Unique convection heat tubes built into stove producing "super heated air"
Injected tertiary air for improved combustion
290mm log length
3 and 4 sided frame options available (50mm & 68mm)
Tested and approved to EN13229 for wood and solid fuel use
Defra approved for all smoke control areas throughout the UK, Scotland and Ireland.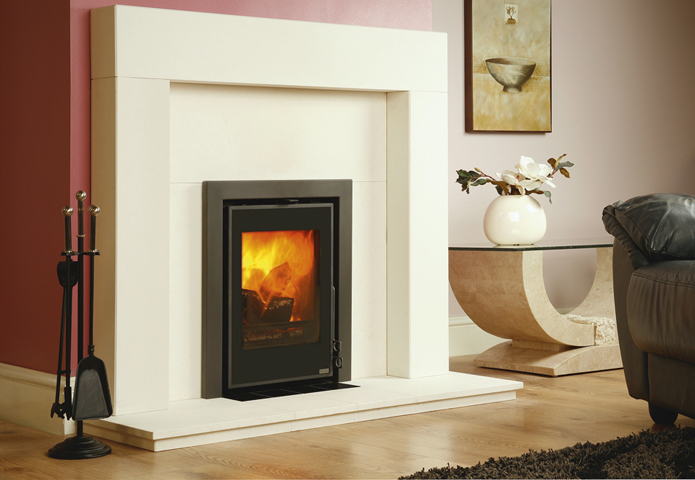 Technical data
Nominal output
4.5kW
Range rating
4-5KW
Flue outlet diameter
Ø125 mm top
Heating area
20-80 m2
Weight
65 kg
Distance to flammable materials 
behind
25cm, at side 40cm
Sides
10cm
to furniture
90cm
Width of wood chamber
35cm
Max log length
30cm
Dimension with 68mm 3-sided frame
594 x 528 x 362 mm (HxWxD)
Distance of centre of top flue outlet from front edge of stove
262mm
Colour options
Satin Black
Efficiency when burning wood
80% (net)
Efficiency when burning solid fuel (approved smokeless fuel such as Ancit or brown coal)
83.5% (net)
Can be installed on a 12mm hearth
CE mark, EN13240,  Defra approved
Please Call For Best Up To Date Price